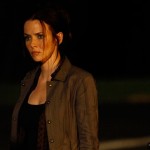 Annie has a word of warning for any future 24 villains – Renee Walker is on a war path and she's coming for you! It looks like the thumb sawing scene was just the tip of the iceberg.
I was happy to see Renee return to 24, but she seems so damaged now. Whose thumb is next? — Richard
MICKEY: "Renee is going to do what she wants and you better hope you're not in her path," Annie Wersching tells us of her conflicted character. If you thought the thumb-chopping scene was severe, just wait.
Source TV Guide
Associated With

Latest News
Archives
About Annie Wersching
Annie Wersching is an actress best known for Renee Walker on 24. This is the most comprehensive Annie Wersching resource on the web with the largest collection of pictures, videos, interviews, latest news, and more.