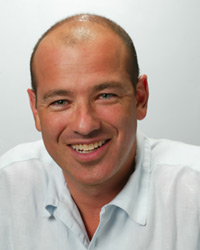 As part of a larger interview with 24 showrunner Howard Gordon, he listed Renee Walker's badass return in episode 4 as one of his favorite moments this season and praises Annie Wersching's performance.
I think we had some phenomenally exciting moments. My first really exciting moment was when Renee took off Ziya's thumb. I loved that moment, the way she played it.

It was just a beautiful, beautiful performance and one that was not necessarily in the script, the way she sort of sexualized the character was a great moment.
The other two moments that made his short-list were Hassan's death and the last scene of the series (which none of us have seen yet). On Twittersphere's negative reaction to the death of Renee Walker, and if there was there another possible choice or was killing the character off the idea from the beginning:
Howard Gordon: Actually, typically we come upon these things as more improvisations, but this was one that we had come up with at the very beginning of the season and stuck with for reasons that I think everybody is seeing right now, which is obviously motivating Jack to this very final, climactic confrontation and taking him to a place he has never been before.

I have to say that I'm taking people's outrage as a measure of interest, and their indifference would have been far more hurtful than their outrage. But we have a history of doing that. I remember when that happened with Edgar; we got a fair bit of angry email. But yes, this is something that we've thought about and thought about very carefully, and hopefully did it well. I hope.
Source Monsters and Critics
Associated With

Latest News
Archives
About Annie Wersching
Annie Wersching is an actress best known for Renee Walker on 24. This is the most comprehensive Annie Wersching resource on the web with the largest collection of pictures, videos, interviews, latest news, and more.