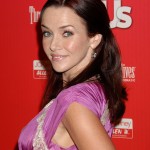 We have more details on Annie Wersching's character thanks to TVLine:
Many 24 fans are "counting the minutes" until Annie Wersching pays a visit to Rizzoli & Isles. Until then, TVLine has the details on her role.

Wersching, who tweeted about the gig earlier this month, will appear on the just-returned TNT drama as Nicole Mateo, a mother devastated by the recent abduction of her daughter in broad daylight. She's also a longtime friend of Detective Rizzoli (Angie Harmon), who worked undercover with Nicole's husband during her Drug Control Unit days.

A recent NCIS guest star and one of the two leads of the ABC pilot Partners, which wasn't picked up for the fall, Wersching will appear in Rizzoli's seventh Season 2 episode, airing Monday, August 8.
The air date mentioned in this article is incorrect, it's actually two weeks later on August 22nd. The writer of this episode, Julie Hébert, has told us that "Annie is fantastic" – just two months until we get to see Annie on TV again!
Source TVLine
Latest News
Archives
About Annie Wersching
Annie Wersching is an actress best known for Renee Walker on 24. This is the most comprehensive Annie Wersching resource on the web with the largest collection of pictures, videos, interviews, latest news, and more.