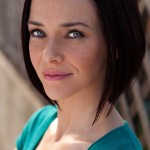 Annie Wersching has been cast in NBC's hit new drama series Revolution as "Emma", the center of a love triangle between Miles Matheson and Sebastian Monroe. She will make her first appearance in the fifteenth episode (currently scheduled for April 22nd). Check out the full article on TVLine for a bit more info.
TVLine has learned that Annie Wersching, who played 24 FBI agent Renee Walker, will guest-star on TV's highest-rated freshman drama as Emma, who was Miles Matheson's first love — and also the first object of Sebastian Monroe's obsession. When Emma resurfaces in the current timeline, it sets the stage for a dramatic confrontation between the gentleman frenemies.
Source TVLine
Associated With

Latest News

0:30
Archives
About Annie Wersching
Annie Wersching is an actress best known for Renee Walker on 24. This is the most comprehensive Annie Wersching resource on the web with the largest collection of pictures, videos, interviews, latest news, and more.