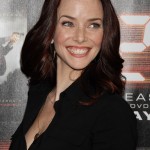 Congratulations to Annie Wersching who has been cast in a pilot for ABC!
Annie Wersching has landed the second lead opposite Scottie Thompson in the Ed Bernero's ABC drama pilot Partners. Lawrence Gilliard has also been cast in the project, a cop drama centered on two female police detectives, Mattie (Thompson) and Jess (Wersching), who are fiercely loyal to one another since they're also secretly half-sisters. Gilliard will play Dr. J.
Source Deadline
Associated With

Latest News
Archives
About Annie Wersching
Annie Wersching is an actress best known for Renee Walker on 24. This is the most comprehensive Annie Wersching resource on the web with the largest collection of pictures, videos, interviews, latest news, and more.