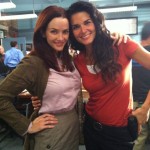 Annie Wersching will guest star in the upcoming second season of smash-hit TNT cable series Rizzoli & Isles. Series regular Lee Thompson Young who portrays Boston homicide detective Barry Frost on the show, broke the news to fans on his Twitter account last week:
We've been having great guest stars lately. This episode we have the very talented @Wersching. Amazing!! See for yourselves in episode 7…
Lee also teased the episode on his Facebook fan page Thursday, saying: "Today we start work on episode 207. This one is intense! It's my favorite type of episode, hardcore police work, action, drama. Definitely one of my favorite scripts this season."
Annie has tweeted "Had a blast working on @RizzoliIslesTNT A very fun set!!! And three, count 'em THREE 24 crew members…so that's always fun :)" and called series regular Angie Harmon "just lovely" and a riot.
An amazing actress on an awesome episode of the #1 show, sounds like a winning combination! The second season of Rizzoli & Isles premieres on July 11th with Annie's episode "Brown Eyed Girl" currently scheduled for August 22nd. Stay tuned for more information on her character as the air date gets closer.
Source Lee Thompson Young on Twitter
Latest News
Archives
About Annie Wersching
Annie Wersching is an actress best known for Renee Walker on 24. This is the most comprehensive Annie Wersching resource on the web with the largest collection of pictures, videos, interviews, latest news, and more.