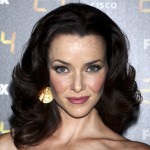 Some great news to report today – Annie Wersching will be returning to our TV screens a few weeks earlier than we originally thought. Rizzoli & Isles episode "Brown Eyed Girl" has been pushed up several weeks by TNT.
Originally scheduled as the seventh episode in late August, "Brown Eyed Girl" will now air three weeks earlier as the fourth episode of season 2. That means Monday August 1st at 10:00 PM. Mark your calendars!
Wersching guest-stars as police officer Nicole Mateo, a longtime friend of Detective Jane Rizzoli (Angie Harmon). When Nicole's daughter Mandy (Jadin Gould) is kidnapped in front of her younger brother, Jane and the team race to find the girl, fearing her abduction is connected to another case in which a young girl was found dead only hours earlier.
It's no surprise that TNT pushed this one forward – from the early buzz among cast and crew, it's sounding like one of the standout episodes this season. Series regular Lee Thompson Young called it one of his "favorite scripts this season", writer Julie Hébert told me via email that "Annie is fantastic", and Angie Harmon herself personally thanked Annie on Twitter for making the episode "AMAZING". We expect nothing less from Annie. Get excited!
Latest News
Archives
About Annie Wersching
Annie Wersching is an actress best known for Renee Walker on 24. This is the most comprehensive Annie Wersching resource on the web with the largest collection of pictures, videos, interviews, latest news, and more.