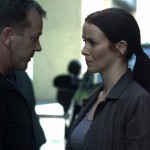 Jack and Renee will be back together again on FOX!

EW has learned exclusively that Annie Wersching — who portrayed FBI Agent Renee Walker in seasons 7 and 8 of 24 — will guest star in the second season of the Kiefer Sutherland starrer Touch.

Wersching will play Dr. Kate Gordon, a smart and caring family therapist specializing in early childhood trauma and behavioral issues. Her episode will air sometime in the spring.
Source Entertainment Weekly
Associated With

Latest News
Archives
About Annie Wersching
Annie Wersching is an actress best known for Renee Walker on 24. This is the most comprehensive Annie Wersching resource on the web with the largest collection of pictures, videos, interviews, latest news, and more.