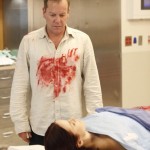 Annie Wersching's Renee Walker has come in at sixth place in Mania.com's "20 WTF TV Character Deaths" list:
6. FBI Agent Renee Walker, 24 (2010)
Renee Walker (Annie Wersching) joined forces with Jack Bauer (Kiefer Sutherland) in Season 7 of 24, becoming a fan-favorite character. She appeared this season as very emotionally troubled and on the outs with the FBI. Nonetheless, she assisted CTU and even saved Jack's life. In a tender moment, Renee and Jack made love, both of these tormented warriors leaving behind their emotional baggage. Moments after the two consummated their relationship, a sniper's bullet ended Renee's life, upping the angst level. Jack is now out for blood. He disemboweled Renee's murderer (Joel Bissonnette) after torturing him. The final hours of 24 are ticking by, proving once again that nobody's safe and there's no such thing as a happy ending for poor Jack (this list doesn't get much better for him).
Source 20 WTF TV Character Deaths - Mania.com
Associated With

Latest News
Archives
About Annie Wersching
Annie Wersching is an actress best known for Renee Walker on 24. This is the most comprehensive Annie Wersching resource on the web with the largest collection of pictures, videos, interviews, latest news, and more.