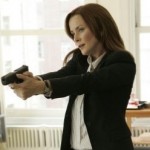 Mania.com has a new article 15 Butt Kicking Espionage Babes and Renee Walker placed in the top 10. Well deserved!
9. Renee Walker

Annie Wersching
From: 24
Easily one of 24's popular characters in recent years, Renee Walker was an FBI agent who wasn't above bending the rules and torturing bad guys for the greater good, believing that justice is paramount even if it the cost is her soul and her sanity.
Source 15 Butt Kicking Espionage Babes - Mania.com
Associated With

Latest News
Archives
About Annie Wersching
Annie Wersching is an actress best known for Renee Walker on 24. This is the most comprehensive Annie Wersching resource on the web with the largest collection of pictures, videos, interviews, latest news, and more.