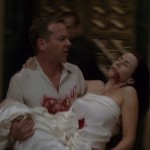 Los Angeles Times writers Maria Elena Fernandez and Yvonne Villarreal compiled a list of "beloved characters that died on TV this year" with Renee Walker getting a mention for her death in 24 Season 8 episode 17.
Renee (Annie Wersching on "24"). Jack Bauer finally gets to have sex and minutes later his girlfriend is shot by a sniper. Man, it sucks to be Jack.
Source Los Angeles Times
Associated With

Latest News
Archives
About Annie Wersching
Annie Wersching is an actress best known for Renee Walker on 24. This is the most comprehensive Annie Wersching resource on the web with the largest collection of pictures, videos, interviews, latest news, and more.