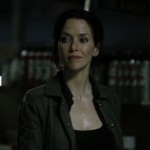 If a certain Russian stoolie now stands little chance of thumbing a ride along the highway, he has Renee Walker to blame.

At the close of 24's two-night, four-hour Season 8 premiere, the FBI's onetime golden child "pulled a Bauer," employing an electric saw to lop off a thug's thumb and thus wriggle off a wrist monitor. The moment even caught Jack himself by surprise.

Surveying her character's audacious act, Annie Wersching tells Fancast, "The only thing that's going through her mind at that point is she needs to get that f–king tracker off of his wrist, and this is how she's got to do it."

Besides, since Renee is no longer employed by the feds and is simply helping CTU hunt down a Russian crime lord as some sort of patriotic solid, "She's got nothing to lose," Wersching notes.

Has Renee gone off the deep end since the traumatic events of Season 7? Or has she simply adopted Jack Bauer's Machiavellian M.O.?

"I think she's hardcore; I don't think she's loco," posits Wersching. "I think that if you didn't see that [the impromptu amputation] affected her, it'd be different. But you see that it does in [Hour] 5."

As a by-the-book FBI agent, Renee spent much of Season 7 trying to reign in Jack's extreme measures, but ultimately was moved to try her own hand at torturing a suspect in the finale. Crossing that line, this season has told us, plunged her into a dark place – not one that's pitch-black, mind you, but just morally charcoal.

"What I love about her is that she can be so badass and so tough, but you still know that it's deeply affecting her," Wersching says, "even if she's trying to pretend like it's not."

Though many 24 fans last season clamored for Jack and Renee to take at least a tiny step toward romance, the most they got was a season-finale cuddle. Could their reunion under new emotionally taxing circumstances ultimately lead them to that place?

"They had these adjacent lives, and the fact they loop back together again becomes a really, really intriguing drama," says executive producer Howard Gordon. "I look forward to everybody seeing it."

Fox's 24 airs Mondays at 9/8c.
Source Fancast
Associated With

Latest News
Archives
About Annie Wersching
Annie Wersching is an actress best known for Renee Walker on 24. This is the most comprehensive Annie Wersching resource on the web with the largest collection of pictures, videos, interviews, latest news, and more.