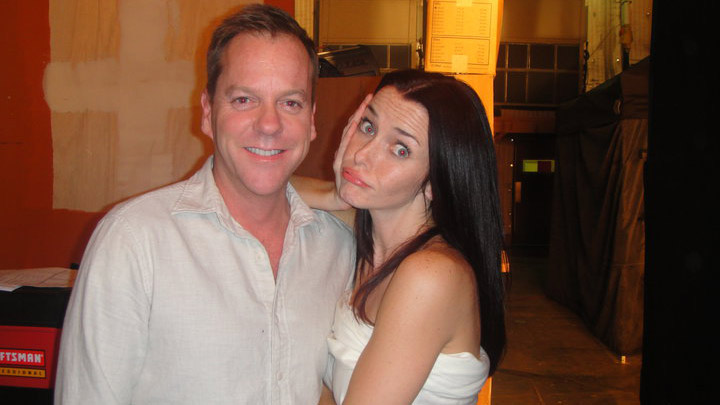 On her memories working on 24…
Annie Wersching: I would say the biggest thing was the friends I made with the cast and crew," says Wersching. "I was a huge huge fan of the show before I joined it, so [it was great] being part of such an iconic show and getting to play a role as amazing Renee Walker. I mostly will miss her.
On finding out Renee would die in Season 8…
Annie Wersching: "[The producers] came to me at the beginning of the season," she reveals. At top of season, they didn't know all that much of what they wanted to do, but the one main thing they wanted to do was bring her back damaged, save her, have them get together and have her taken away from him which leads [Jack] to the path for the rest of the series. I knew that was set in stone. They knew I was sad about it and upset, but these are the moments that make 24 so great.
On making love with Jack and dying in the same episode…
Annie Wersching: "I kind of wish, the Jack/Renee love story making would've had its own episode to resonate before she got shot," says Wersching. "That was a huge moment in the show because it's the first time Jack has ever done that. It's interesting she went out that way, as opposed to the line of field where she saves the day."
On Jack's mission for the rest of the season….
Annie Wersching: "This is kind of what fuels Jack Bauer and the rest of the show and [fans] will be pleased that he gets to be the most intense Jack Bauer can be."
On shooting the sex scene between Jack and Renee…
Annie Wersching: "We didn't know if we could get them to a place where they were actually making love because of the real time and [the producers] figured out how to do it," she says. "They knew she was going to get shot right afterwards. Jack couldn't be naked when he was carrying her to the hospital. The specifics were very difficult of figure out. We knew it needed the right amount of time. We shot love making and death over the course of two days. Kiefer and I were so nervous about the love scene, it helped tame down the Renee getting shot part. The whole thing was bittersweet to shoot."
On Jack having any relationships with women in the future…
Annie Wersching: "I would say this is probably not a good sign for him," says Wersching. "If they had five more seasons on the show to shoot, I wouldn't rule it out. The movie being only two hours, it will be hard to find love [too]. This definitely leaves him for not looking for a relationship."
How Renee fits in Jack's long line of doomed relationships…
Annie Wersching: "Being a fan of the show, knowing that I knew Jack's history with every woman on show just from watching it, it was an advantage," says Wersching. "Just being equal on field, but also [Renee] truly got him and understood what he has to live with inside of him to be the man he is and the moral dilemma and pain he lives with. I think that's what makes them so unique. She's the first person that understood him and got him."
On where the relationship could have gone if Renee had lived…
Annie Wersching: "If it took off from Jack's apartment [I could] see them try to make it and go back to California, but always getting called back in line to do right thing," concludes Wersching. "It was fun to see them out saving the day together and running around in different situations and countries – always having close calls and having them together would have been pretty fantastic."
Source iFMagazine
Associated With

Latest News
Archives
About Annie Wersching
Annie Wersching is an actress best known for Renee Walker on 24. This is the most comprehensive Annie Wersching resource on the web with the largest collection of pictures, videos, interviews, latest news, and more.