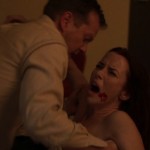 Jack and Renee's brief sex scene in 24 Season 8 (which was unfortunately interrupted by sniper fire) made the list on TV Guide's "Unsexiest Sex Scenes" article.
On a show with no time for food or bathroom breaks, lethal lovers Jack Bauer and Renee Walker somehow found time for sex. Unfortunately, their golden-lit scene was ruined when a sniper shot a sheet-wearing Renee in the stomach as she waited for Jack to fetch her a glass of water. Sex kills, people.
Speaking of which, Renee Walker's bloody sheet is being auctioned off by FOX on eBay right now.
Source TV Guide
Associated With

Latest News
Archives
About Annie Wersching
Annie Wersching is an actress best known for Renee Walker on 24. This is the most comprehensive Annie Wersching resource on the web with the largest collection of pictures, videos, interviews, latest news, and more.