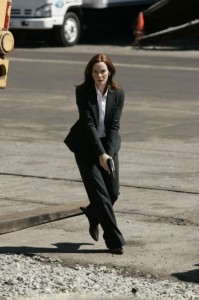 The Style Insider blog has done some digging into Renee Walker's suit and have found out it's designed by Elie Tahari.
We want to know about that crisp, understated, stylish suit she has been wearing for the first four hours of the show. It's nicely tailored, with a slick hip-grazing black jacket and matching low-slung pants that flare a bit at the hem. Underneath it is a Brooks Brothers-y striped white shirt. We're assuming she's doing all this damage in cute high heels, too.

The excellent part is that she has managed to run around, shoot people, torture a thuggish injured evil-doer, get caught, nearly get killed and then get buried alive — all in this great suit. A tour de force!

Unfortunately, despite several requests, the media relations fellows at Fox have chosen to remain silent about the whole outfit (we believe it's some kind of high-level secret). Thus, we can't shed any more light. And now that she's been rescued from a horrible death, she conveniently found a T-shirt and leather jacket in her size to wear.

Bummer.

Fans will be pleased that her distinctively freckled face is still perfectly made-up, which is pretty good for having been shot and covered in plastic and dirt.

(Editor's Note: The Fox fellows decided to come clean — and we didn't even torture them — and let us know that Agent Walker's suit is by Elie Tahari).
Associated With

Latest News
Archives
About Annie Wersching
Annie Wersching is an actress best known for Renee Walker on 24. This is the most comprehensive Annie Wersching resource on the web with the largest collection of pictures, videos, interviews, latest news, and more.