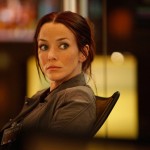 Joining TVWithoutPity and BuddyTV, HitFix.com's Daniel Fienberg has posted his "Emmy Nomination Preview 2010" and listed Annie Wersching as one of his choices for Outstanding Supporting Actress in a Drama.
Nomination Status: Could take Cherry Jones' vacated spot if voters go on "24" autopilot.

In Her Favor: Emmy voters have a history of recognizing some "24" supporting ladies and with Cherry Jones oddly removing herself from contention, it's down to Wersching and Mary Lynn Rajskub. While we prefer Chloe, Jack Bauer preferred Renee, if you know what we mean? In any case, Wersching sure had the most ACTING to do of any "24" castmember this year, in part because the writers decided to give her an entirely different character from the one she played last season. That sort of confusion can lead to a lot of ACTING. Sometimes voters respond well to ACTING, especially if they're feeling a little "24" nostalgia.

Working Against Her: In isolated episodes, it would probably be hard to see just how good a job Wersching did with some pretty awful material. Also, while we happened to like Wersching very much, she's not as recognizable as Cherry Jones or Jean Smart, previous 24 acting nominees.
Source HitFix
Associated With

Latest News
Archives
About Annie Wersching
Annie Wersching is an actress best known for Renee Walker on 24. This is the most comprehensive Annie Wersching resource on the web with the largest collection of pictures, videos, interviews, latest news, and more.