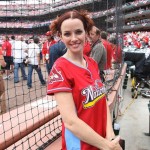 Bleacher Report, one of the largest sports media websites and newsletters on the internet, has listed Annie Wersching in their "Hottest Softball Players Ever" list. We certainly agree!
Other celebrities making the list include Jessica Lowndes of 90210, Jenna Fischer from The Office, singer Ashanti, television personality Maria Menounos, and swimsuit model Marisa Miller. She's in very good company!
Source Bleacher Report
Latest News
Archives
About Annie Wersching
Annie Wersching is an actress best known for Renee Walker on 24. This is the most comprehensive Annie Wersching resource on the web with the largest collection of pictures, videos, interviews, latest news, and more.