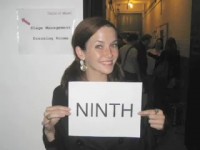 Annie Wersching appeared in this YouTube music video set to [title of show]'s song "Nine People's Favorite Thing". Each participant was told to email a picture of themselves holding up a sign with a particular word on it, with each word being a lyric from the song. Six hundred words in the song and six hundred participants.
Annie appears at the 1:32 mark holding a sign that says "ninth" (also included in this post as a picture). Most of the participants were random fans but you'll also notice quite a few other celebrities in there such as Neil Patrick Harris, Jane Krakowski, Sarah Silverman, Zachary Quinto, America Ferrera, and Jimmy Kimmel.
Latest News
Archives
About Annie Wersching
Annie Wersching is an actress best known for Renee Walker on 24. This is the most comprehensive Annie Wersching resource on the web with the largest collection of pictures, videos, interviews, latest news, and more.