Marc Cox of KMOV has done a blog post about meeting Annie Wersching in St. Louis – she also posed for a picture with him.
I'm a huge fan of "24", and have to tell you that today I'm feeling like the luckiest guy in St. Louis this St. Patrick's Day. On Saturday night I went to Diablo McGee's in South County to listen to an Irish band named the "Irish Aires". A few minutes in to their second set, I noticed a very familiar face in the crowd…actually performing a perfectly executed Irish dance. It didn't take long to figure out it was Annie Wersching – the St. Louis native who now plays Agent Renee Walker on "24". Not only is she a genuinely down to earth person, she was kind enough to put up with my request for a picture.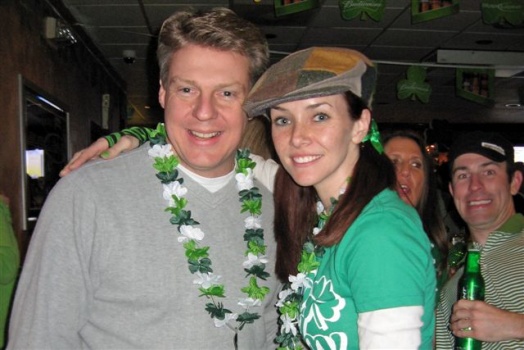 Others joined in on the comments in agreement and heaped on the praise. Michael McDonagh said:
It was a great night at McGee's with ALL of celebrities in attendance (Annie, you, Sheriff Murphy, et al). You are absolutely right about Annie and her willingness to give of her time for her fans. She seems amazingly humble for someone with her resume.

Next time maybe we can get you up to do an Irish Jig along with the girls.
And Siobhan said:
Annie is a sweetie, isn't she? She had so much patience for the photos. I hope she survives for at least another season on 24.
Latest News
Archives
About Annie Wersching
Annie Wersching is an actress best known for Renee Walker on 24. This is the most comprehensive Annie Wersching resource on the web with the largest collection of pictures, videos, interviews, latest news, and more.