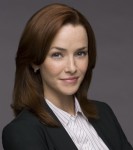 Anybody who caught Annie Wersching as General Hospital's Amelia — aka the producer who sought revenge against Kelly Monaco's Sam by, um, making her a star (even for a soap, that one didn't make much sense!) — could see that this woman's star was on the rise. As 24's FBI agent Renee Walker, the wildly talented Wersching immediately eclipses pretty much everyone else on the screen, which ain't an easy thing to do given the caliber of talent that show has on board. Better still, it looks like Wersching will be getting a whole lot of air time, as the show immediately makes her a reluctant sidekick to everybody's favorite torturer, Jack Bauer. While we're not overly impressed with what we've seen of the new season — which suffers from a major case of the "been there, done that" blues — Wersching is the kind of fresh blood that pumps new life into a series and keeps you comin' back for more.
Source: the TV addict
Source the TV Addict
Associated With

Latest News

0:30
Archives
About Annie Wersching
Annie Wersching is an actress best known for Renee Walker on 24. This is the most comprehensive Annie Wersching resource on the web with the largest collection of pictures, videos, interviews, latest news, and more.