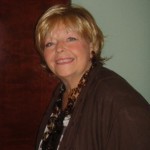 Very sad news – Annie Wersching's mother, Sandy Wersching, has died earlier this week at age 67. They were very close with Sandy sometimes getting screen time in Annie's interviews like the 2010 Chinese New Year Parade and on The Bonnie Hunt Show.
Sandy Wersching, who owned Surprise! Flowers and Gifts in St. Louis for more than 30 years, died Wednesday (Feb. 2, 2011) of a diabetes-related ailment in Los Angeles. She was 67.

Mrs. Wersching grew up in Sunset Hills and graduated from Lindbergh High School. She and her husband, Frank Wersching Jr., who died in 1989, opened Surprise on Euclid Avenue in the Central West End in 1970. After 17 years, the shop moved to the Shaw and then the Tower Grove neighborhoods.

Mrs. Wersching, who retired in 2007, was an award-winning floral designer who also ran a school of floral design and created flower arrangements for hundreds of weddings. "She would do the flowers for people's weddings and then stay in their lives long enough to then do their children's weddings," said her daughter, actress Annie Wersching of Los Angeles.

A memorial service is pending.

In addition to her daughter, with whom she had lived for the last three years, Mrs. Wersching is survived by a grandson.
Source STL Today
Latest News

0:30
Archives
About Annie Wersching
Annie Wersching is an actress best known for Renee Walker on 24. This is the most comprehensive Annie Wersching resource on the web with the largest collection of pictures, videos, interviews, latest news, and more.