Annie Wersching visited her old college Millikin University for Homecoming weekend back in October and thanks to Millikin Quarterly we have pictures and information on her visit.
Wersching led a "Career Connections" session for eager-to-learn students during Homecoming weekend while on a short break from her filming schedule. Both actresses shared the gift of their knowledge and reflected on how their Millikin experiences have prepared them well for the careers they now pursue.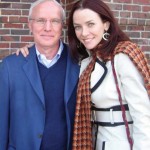 In a whirlwind visit worthy of FBI agent Renee Walker, the character she portrays on FOX-TV's series "24," actress Annie Wersching '99 flew in for Homecoming weekend in October to reconnect with her former classmates and professors. During her visit, Wersching shared insights of the acting business with current theatre students during one of several Homecoming "Career Connections" presentations made by alumni working in various careers. Wersching will reprise her co-starring role in season eight of "24," which premieres Jan. 17. At right, Wersching and President Doug Zemke '66 during her visit to campus.
There's also a photo of the Class of 1999 and the lovely Annie Wersching is right in the middle of the third row wearing a purple shirt (click the image for a larger version).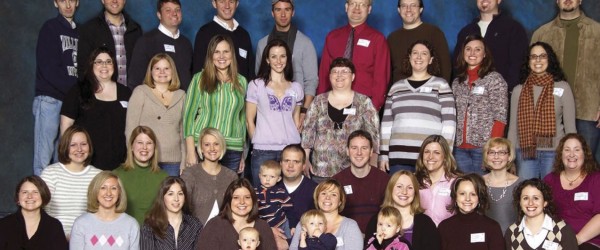 Class of 1999
Among the members of the class of 1999 and their guests who attended Homecoming 2009 festivities:
Row 1: Kristin Ebers Wolter, Emily Ruemmler Lepper, Denise Heckman Holtzscher, Divina Scholz Sullens, Kylie Sullens (age 9 months, daughter of Harold and Divina Scholz Sullens), Bryce Phillips (age 2, daughter of Katherine Davis Phillips), Katherine Davis Phillips, Riley Sink (age 2, daughter of Chris and Jean Heyen Sink), Jean Heyen Sink '00 (wife of Chris Sink), Elizabeth Bernard Kubal and Debbie Hauck Hahn. Row 2: Sarah Behl Crim, Sarah Glass, Jamie Rolves McDowell, Lucas Sullens (age 3, son of Harold and Divina Scholz Sullens), Harold Sullens (also '99 and husband of Divina Scholz Sullens), Chris Sink, Laura Kucharik, Nicole Tester and Kristin Trpezanovich Crim. Row 3: Eileen Clancy, Tricia Bechman, Ericka Goodman, Annie Wersching, Amanda Johnson Butterick, Lisa Koch Jaberg, Jane Dunker Attaway and Tobi Lowrance. Row 4: Benjamin Hickok '00, Matthew West, Ryan Lawrence, Brandon Zale, Ritter Hanz, Jason Butterick '98 (husband of Amanda Johnson Butterick), Peter Jaberg, John Attaway '00 (husband of Jane Dunker Attaway) and Jeff Thompson.
Latest News

0:30
Archives
About Annie Wersching
Annie Wersching is an actress best known for Renee Walker on 24. This is the most comprehensive Annie Wersching resource on the web with the largest collection of pictures, videos, interviews, latest news, and more.