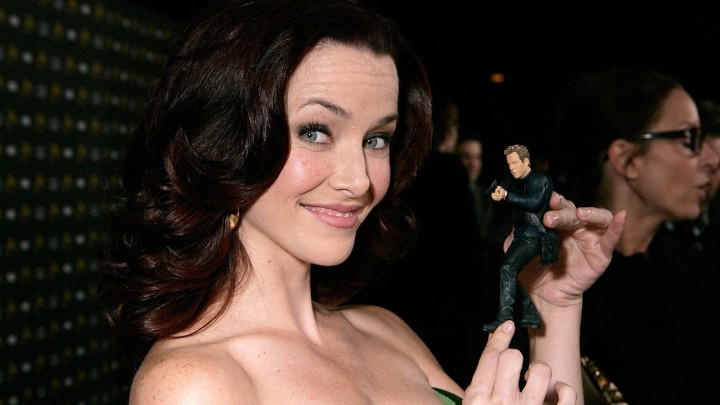 1. How's life as the 'Girl Jack' of '24'?
[Laughs] I just recently found out people were referring to [Renee] as that. It's great! It wasn't something that we talked about in the beginning, or ever said out loud while we were filming, but I guess that really is how people have embraced her. I love hearing and reading all the different things viewers say, whether they want Jack and Renee to get together … it's interesting to watch everything unfold through their eyes.
2. Were you a fan of the show before you joined the cast?
I was the biggest fan of the show! I had seen every episode of every season. So it was very exciting, and very surreal, to be auditioning for the show. I had done a pilot with ['24' producer] Joel Surnow and ['24' director] Jon Cassar, so I was hoping that maybe I could get an audition for one episode, for a guest role or something like that. But then when they brought me in for this role, this wonderful character … it's been very, very exciting.
3. And you mentioned how some fans are hoping for a Jack/Renee hook-up … any chance we'll be seeing that before the end of the season?
[Laughs] Well, as you know, people are already starting to see that there's definitely some chemistry, though there's only so much that you can do when you're trying to save the world in one day. But, there's a lot of respect between the two of them, and it stems from the fact that, professionally, they handle themselves in the same way. It gets interesting.
4. Were you prepared for how physical the role is? Renee's been running all over D.C. and was almost killed, and that was just in the first handful of episodes.
I did a lot of competitive Irish dancing growing up, so a lot of the action scenes are like choreography for me. I pick up on it pretty easily, and I loved doing all the action stuff, the fights and the running and the guns. And yes, Renee was dead! Thank goodness for Bill and Chloe and the adrenaline shot!
5. Have you gotten any bumps or bruises along the way?
There was a bruise here or there. There was one scene where Kiefer and I are in a car and we smash into another car. He was driving, and then we both have to get out my side of the car. I was supposed to get out and jump on the hood and keep a visual on the car that we were chasing, and as Kiefer got out, he accidentally put the car back into drive, while I was on top of it, standing on the car. That was interesting, because all of a sudden, I was kind of surfing the hood, while the car was continuing up over the sidewalk. It was all fine though, and we got it all under control.
Source TV Squad
Associated With

Latest News
Archives
About Annie Wersching
Annie Wersching is an actress best known for Renee Walker on 24. This is the most comprehensive Annie Wersching resource on the web with the largest collection of pictures, videos, interviews, latest news, and more.