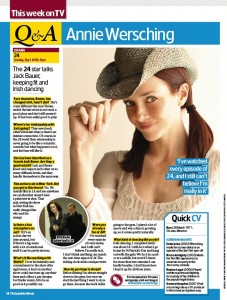 Annie Wersching was interviewed in the February 6-12 issue of TV & Satellite Week magazine. The 24 star talks Jack Bauer, keeping fit and Irish dancing.
Your character, Renee, has changed a bit, hasn't she?
She's crazy different this year! Renee ended the last series in not such a good place and she's still messed up. It has been really good to play.

Where's her relationship with Jack going?
They saved each other's lives last time so there's an internse connection. Of course, in the 24 world their relationship is never going to be like a romantic comedy, but what happens is cool, and the fans will like it.

She has been described as a female Jack Bauer. Are they a good match?
Jack and Renee know and respect each other on so many different levels, and they handle themselves in the same way.

This series is set in New York. Did you get to film there?
No. We mainly film in LA and use anywhere we can find that doesn't have a palm tree in shot. That said, setting the show in New York has really changed the vibe and the energy.

Is there a fun atmosphere on set?
If it's an action day we joke around, but if there's a big scene with a lot of emotional stuff it can be pretty serious.

What's it like working with Kiefer?
I love his intensity and commitment to the show after eight years. A lead on another show could just turn up, say their lines and collect a paycheck, but Kiefer wants 24 to be as good as it possibly can.

Were you already a fan of 24?
I've watched every episode of every series, and I still can't believe I'm really in it. I don't think anything can match the real-time aspect of 24. The ticking clock adds a unique twist.

How do you keep in shape?
Before filming I'm always straight down to the gym, but once we start the last thing I want to do is go there, because the work is like going to the gym. I played a lot of sports and was a dancer growing up, so it comes pretty naturally.

What kind of dancing did you do?
Irish dancing. I competed until I was about 18. I still do it when I go home for St. Patrick's Day and hang out with the girls. We do it in a pub or at a ceilidh, but now if I dance for more than two minutes I can hardly breathe. I don't know how I kept it up for all those years.
Associated With

Latest News
Archives
About Annie Wersching
Annie Wersching is an actress best known for Renee Walker on 24. This is the most comprehensive Annie Wersching resource on the web with the largest collection of pictures, videos, interviews, latest news, and more.