ALIVE St. Louis magazine had Annie Wersching as their cover story in the May 2009 issue with a nice interview. Here's a transcription below:
24-Hour Star Power
St. Louis native Annie Wersching on her St. Louis roots and new lead role on FOX's 24. by Jill Manoff, photograph by Jeff Vogeding.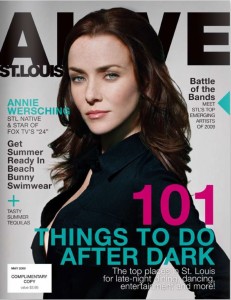 After pounding the L.A. pavement for seven years, a few guest roles on such series as Star Trek: Enterprise and a recurring role on daytime TV (she played Amelia Joffe on ABC's General Hospital), St. Louis native Annie Wersching's career is about to blow up. The latest addition to the Fox hit series 24 on which she stars as leading lady FBI Agent Renee Walker last season, Wersching has already established herself as an audience favorite; fans even refer to her as the "Girl Jack" (in reference to Kiefer Sutherland's character, Jack Bauer). With her "dream part" in tow and undisclosed projects in the works, Annie Wersching is seemingly a time bomb ready to explode. Fitting…
Jill Manoff: This season you're the new lead on 24 across from Kiefer Sutherland. What do you love most about this role?
Annie Wersching: Renee Walker is just such a dream role. She gets to experience so much action and do so many stunts; she is so cool. That, combined with her conflicted mind and strong emotions and the big, heavy dialogue she does with Jack, makes her a dream part on a TV show. Plus, I can relate to her; in real life, I'm not too much of a girly girl. There are a lot of strong female characters this year – even the president is a woman – so there are a lot of good messages for girls of all ages.
Jill Manoff: As an FBI agent, your character has to show a lot of physical prowess. Do you do most of your own stunts?
Annie Wersching: I definitely really, really love that part of it. I am always wanting to do more than they want me to do – and they let me do almost everything. You know, anything that you could actually get hurt on – insurance-wise – even if they wanted to let you do it, they couldn't. So I do as much as they possibly let me do; I do a pretty good amount of it.
Jill Manoff: How did your role on 24 first come about?
Annie Wersching: While I was still on General Hospital I left for two weeks to film a FOX pilot with two of the creators of 24 and then went back to General Hospital for a while – so I had known a couple of those guys. They were having a hard time casting [the Renee Walker character], so they brought me in. They didn't know how old they wanted her to be, how young, how tough – and the part that I played in the pilot was the wife of the main guy in the show, who was a very sweet, nice, neat, housewife – could not be further from Agent Walker. I don't think they were really expecting Agent Walker to be able to come out of me after shooting me playing the mild-mannered role for the pilot. After that, I just had three or four call backs. I was supposed to read with Kiefer a couple of times, but it ended up not happening schedule-wise; the very first time I met him was our first day of shooting season seven, just before we shot our first scene. So, it was just a whirlwind; I got it and started a week and a half later – had some gun training, got into wardrobe, hair, makeup, and I was on my way! That was it!
Jill Manoff: There's obviously great chemistry between you and Kiefer Sutherland.
Annie Wersching: It's really good. Obviously, I was nervous and scared in the very beginning, but we got along really well on our first day of shooting. We've done so many scenes and have spent so much time together; I've learned so much from him. We have so much fun. He's a really good guy.
Jill Manoff: Before 24, you made guest appearances on popular series such as Frasier, Charmed, Cold Case, and Boston Legal, then scored a recurring role on General Hospital. What was that like?
Annie Wersching: General Hospital was really an interesting and exciting time for me. I was so upset that my mom, who still lived in St. Louis at the time, wasn't with me; but thanks to the show, she was able to see me five days a week for an hour. But it was definitely a challenging job; I mean, you have so many lines to memorize and then you basically have one take to spit out all of these lines that you practiced, then you go home at night and learn a whole new set of lines. But it was really fun – and probably some of the best training that I've had; they move so fast it forces you to make quick choices about how you want to play a scene.
Jill Manoff: You were a musical theater major in college. What made you decide to move to Hollywood rather than New York?
Annie Wersching: I always felt like L.A. was calling to me. And I always wanted to move to L.A. first so that I could work in TV or films so that I could then afford to do theater; I was going about it the opposite way most people do. But I just wanted to do anything and everything – get a little taste of all different sides of the business.
Jill Manoff: Where did you grow up in St. Louis?
Annie Wersching: When I was about 11, we moved to the Central West End (where she graduated from Crossroads College Prep in 1995). My mom had a flower shop on Euclid in the Central West End for, like, 20 years. She moved it to the Shaw neighborhood, so we moved there, near the Missouri Botanical Garden. When I visit, I love going back to the Central West End, as well as all of the Irish places – like McGurk's; I always make sure to go to Ted Drewes, Imo's – even White Castle, because we don't have that [in L.A.]! I make sure I get my little fix.
Jill Manoff: Will you be visiting St. Louis soon?
Annie Wersching: Yes! I am so proud to be from St. Louis. I came home for the premiere of the show; I rented out the Tivoli and invited everyone that I have basically ever known – and we all watched the two hours of 24 together. I love coming back and I miss it. I come home at least twice a year. I am trying to see if someone will let me sing the national anthem at the Cardinals-Cubs game at the end of the season. We'll see what happens!
Latest News
Archives
About Annie Wersching
Annie Wersching is an actress best known for Renee Walker on 24. This is the most comprehensive Annie Wersching resource on the web with the largest collection of pictures, videos, interviews, latest news, and more.