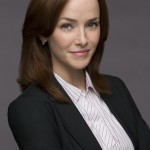 Today is the final day of production on 24 and Annie Wersching posted the following message on her Facebook fan page:
9 years ago, in 2001 I had just moved to LA and started watching 24 in my beatup studio apt in Hollywood and became a forever Fan. 9 yrs later, after 3 years/2 seasons 24 has again truly changed my life forever…here's to the end of an era and to truly one of the most groundbreaking, original and kick ass shows of all time!!!!!!!!!!!!
Source Annie Wersching on Facebook
Associated With

Latest News

0:30
Archives
About Annie Wersching
Annie Wersching is an actress best known for Renee Walker on 24. This is the most comprehensive Annie Wersching resource on the web with the largest collection of pictures, videos, interviews, latest news, and more.