Irish Dancing Prepared Annie Wersching For Tough-As-Nails RoleAs Agent Renee Walker on the FOX action hit "24," Annie Wersching has tortured terrorists, battled bad guys in hand-to-hand combat, and even been buried alive. And what was the training that has allowed this picture-perfect redhead to effect such a battle-hardened exterior?
Would you believe "Riverdance"? St. Louis native Wersching, 32, began Irish dancing as a child, and spent much of her youth kicking her way across stages nationwide before eventually kicking in heads to defend our country.
"My father was sick when I was little, and we had a woman, a nanny-type, who was from Ireland," says Wersching. "Her daughter was in Irish dancing so she put me in it, and in the summertime, every weekend was filled with traveling somewhere to dance in competitions."
Oddly, the early musical theater aspirant credits her dancing days with helping her battle fictional bad guys today. "A huge part of Irish dance is balance, which is so good for any kind of combat — just being aware of your body," she says. "I did other kinds of dancing as well, and I was an athlete, so I think all of that [helps]."
In conquering the show's season-seven terrorists alongside Kiefer Sutherland's Jack Bauer, Wersching, 32, found herself in situations that might have made most actors long for the simple pleasures to be found in belting out a Gershwin tune.
One such scene found her swimming in freezing water under treacherous conditions.
"I'm in the Potomac, jumping off a boat at like 5:30 a.m.," she says. "They wanted to drop me in the middle of the ocean — we'd been shooting for 14 hours — and they wanted me to swim to shore without my wet suit because they didn't have time [to put it on]. And, the water was 53 degrees. I was swimming in a leather jacket and blue jeans and boots. "Then there was the scene where Agent Walker was buried alive — which means, of course, that Wersching was buried alive as well.
"I had a full mound of dirt completely covering me, so that was a little scary," she says. "The actual tricky part to shoot was the unburying, because there had to be enough dirt on top of me to dig through. I was completely buried up to my neck for 45 minutes, then they would quickly put the plastic over my face, put some dirt on it, and then shoot."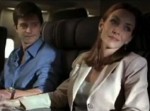 If this all sounds a bit trying for an actress whose greatest show business disappointment to date was having to turn down a tour of "Beauty and the Beast," Wersching is thrilled at the surprising progression of her career. After following numerous guest spots on episodic TV with a role on "General Hospital," Wersching shot a pilot that had been developed by the executive producers of "24."
"It didn't get picked up," she says, "and then about six months later they were casting for Renee. The part in the pilot couldn't have been more different — she was a sweet, demure wife of the lead guy — so I think they brought me in because they liked working with me. I don't think they ever imagined there was an Agent Walker in there somewhere."
Once she did get hired, Wersching faced a greater challenge — facing off against her no-nonsense co-star.
"There were a lot of us that were new," she says, "but it was definitely a very big deal whether you could work well with Kiefer. [Executive producer] Jon Cassar was the one that vouched for me for this role, so our very first day of shooting, he was as nervous as I was."
Sutherland, apparently, has a reputation on-set for not suffering fools — or unprepared actors — lightly.
"[If you're] someone he's gonna spend so much time with, he has to like you and has to like working with you. Otherwise it might not work," she says. "I remember before I started, I had three different producers come up to me, like, 'OK. You got your first day coming up, and all your stuff is with Kiefer, so you're gonna be prepared, right?' Like, 'please don't fail for us.'"
Looking back, though, Wersching paints a picture of their first day of shooting that makes the concern seem overblown.
"I remember, now that I know him and what his different moods are like, that he was just as nervous as I was — just meeting a new actress that you're gonna be heavily working with," she says. "I remember us having a whole conversation about where I was from, your normal chit-chat about St. Louis, and then him asking again where I was from. Now looking back, it's like, 'Oh. He was kinda nervous too.'"
Given the show's national security and torture-related storylines, the surprises in Wersching's life have continued. At one point, she visited the National Counterterrorism Center with castmate Jeffrey Nordling, who plays Larry Moss, and met with some FBI agents.
"We had these amazing discussions, and they said that if it was the real world, Renee would have been suspended in episode two," she says. "They carry this mini 'Bill of Rights' in the field to constantly remind them that they're doing things by the law. I was just fascinated by that. I asked if they had a copy that I could have, and somebody gave me a little 'Bill of Rights.'"
Wersching begins filming next season at the end of the month, and while she misses the chance to dance and do musicals, she's greatly looking forward to whatever hardships the show's writers create for her — for now, at least.
"I just love about this job that I experience all these things I would never do in my normal life. When is that ever gonna happen again?" she says. "I'm completely gung ho and into it. Let's see if I still act the same way five years from now."
Source New York Post
Associated With

Latest News
Archives
About Annie Wersching
Annie Wersching is an actress best known for Renee Walker on 24. This is the most comprehensive Annie Wersching resource on the web with the largest collection of pictures, videos, interviews, latest news, and more.