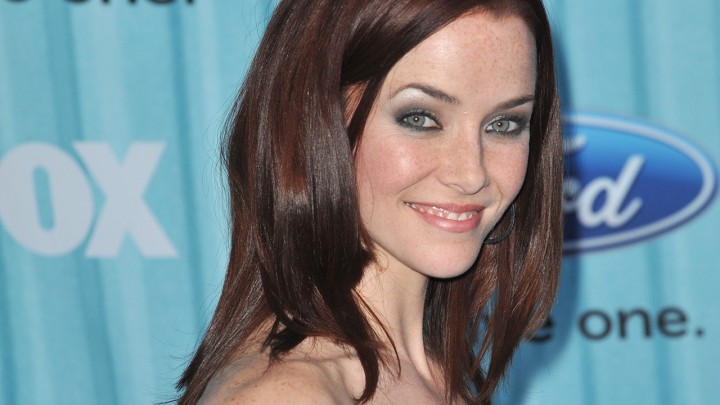 So far your character has been kidnapped, shot, buried alive and choked by a terrorist. Will Renee Walker finally get a breather?
Hardly. In upcoming episodes, I'll be hanging out a helicopter and then standing on top of an FBI car while it's going 35 miles per hour, shooting my gun.
Yikes! What's been your most harrowing real-life ordeal?
My second night living in Hollywood, my apartment was broken into at three in the morning while I was home with my dog. It was this crazy ghetto version of Melrose Place, and I saw someone outside the window with a flashlight. I screamed, grabbed my phone and my little Shepard-Lab mix and started knocking on my neighbors doors. One guy who let me in was probably as scary as the guy breaking into my place.
How would Renee have handled the situation?
The guy would have been hurt for sure.
Whom on the show have you clicked with?
Working with Janeane is so funny. I love having my own little Chloe. We could never stop laughing in rehearsals. We were reshooting one scene with all this techno-jargon, so we basically had every single one of our lines written on Post-Its stuck around her computer screen. Hopefully, you can't see them.
How's Renee handling the pressure of teaming with a rule-bender like Jack?
It's been a struggle for her and will turn into something huge on a personal level. Jack's a mentor to her, but I think she's making him think and feel things on a human level.
Do you get a sense that fans are hoping for a Jack/Renee romance?
You of course have your hardcore Audrey fans, but I hear both. Renee is definitely intrigued by Jack. We had a moment in the hospital where I slapped Jack, and that was supposed to have turned into a kiss. I was excited when I first read it, but any scene you're in with Kiefer will be tweaked, and we both felt it wasn't true to the moment. I think that paved the way for the rest of the season.
Are you hoping you'll eventually get that kiss?
There are pros and cons, because the second you get to that place with Jack Bauer you're probably not going to survive very long. But you never know…
If Jack hangs up his gun next season and assuming you survive. Is there a chance you could continue the franchise as 24's new leading badass?
I remember when I first got the job, and Howard Gordon said how excited he was about Agent Walker. He said, " Jack Bauer who? As far as I'm concerned, it's Renee Walker, Seasons 10, 11, and 12." I'd be open, of course, but I can't imagine people going for it without Jack."
Latest News
Archives
About Annie Wersching
Annie Wersching is an actress best known for Renee Walker on 24. This is the most comprehensive Annie Wersching resource on the web with the largest collection of pictures, videos, interviews, latest news, and more.