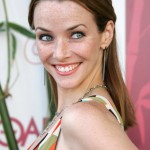 That didn't take long – just two days after learning that Annie would be guest-starring on Hawaii Five-0 comes more details about her character.
Wersching will play Samantha Martel, the sister of a murder victim whose death Five-0 is investigating. Described as agitated, frantic and defensive, Wersching's character eventually becomes a suspect when McGarrett (Alex O'Loughlin) & Co. discover that her brother had recently fired her from his high-end restaurant. Is revenge a dish best served cold … and bloody?

Besides her role as FBI Special Agent Renee Walker on the final two seasons of 24, Wersching is known for her work as Amelia Joffe on ABC's General Hospital. She has also recently appeared on such series as CSI, NCIS, No Ordinary Family and Rizzoli & Isles.
Source TV Guide
Associated With
Latest News
Archives
About Annie Wersching
Annie Wersching is an actress best known for Renee Walker on 24. This is the most comprehensive Annie Wersching resource on the web with the largest collection of pictures, videos, interviews, latest news, and more.