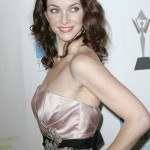 Annie Wersching has revealed on Twitter that she just booked a film role! The movie is called Black Gold and will be directed by renowned Nigerian filmmaker Jeta Amata.
Alright where's the tweeties in Africa?! Just booked a film that shoots there conveniently right after 24 wraps..perrrrrfect! Sooo excited!! Called Black Gold, film by Jeta Amata king of Nollywood. Hakeem is in it! (Dubaku), Billy Zane. Shoots in Nigeria, Calabar & somewhere else.
UPDATE April 2, 2010: Looks like this is a no-go. When a fan on Twitter asked for an update on the film, Annie replied back that she had to drop out of the film because she couldn't get the yellow fever vaccination, presumably due to her pregnancy. Bummer! It seems like actress Sarah Wayne Callies (Prison Break's Sara Tancredi) has taken over the role.
Latest News
Archives
About Annie Wersching
Annie Wersching is an actress best known for Renee Walker on 24. This is the most comprehensive Annie Wersching resource on the web with the largest collection of pictures, videos, interviews, latest news, and more.