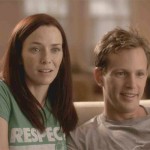 Good news everyone – Below the Beltway, an award-winning independent film that Annie Wersching appears in will be airing on cable television just a few days from today! The first official promotional picture of Annie's character "Darcy" was also released (click the thumbnail to your right).
Here are the showtimes for Below the Beltway screenings:
Saturday December 4th at 5:50 PM on The Movie Channel (TMC)
Thursday December 16th at 3:15 AM on Showtime 2 (SHO 2)
Saturday December 25th at 2:00 PM on The Movie Channel (TMC)
Tuesday January 4th at 7:00 AM on Showtime
Monday January 17th at 9:15 AM on Showtime
Tuesday January 25th at 7:30 AM on Showtime
Below the Beltway centers around a disgraced political operative (Tate Donovan) who sets out to redeem his reputation by exposing a decade-old sex scandal involving a U.S. Senator. Aside from Annie Wersching, it also features Sarah Clarke (Nina Myers) and Xander Berkeley (George Mason) – three of the greatest 24 characters all in one movie! Make sure to mark your calendars and set your DVR's for this weekend. Also check back here on Saturday for all the screencaps and videos of Annie's scenes.
Associated With
Latest News

0:30
Archives
About Annie Wersching
Annie Wersching is an actress best known for Renee Walker on 24. This is the most comprehensive Annie Wersching resource on the web with the largest collection of pictures, videos, interviews, latest news, and more.