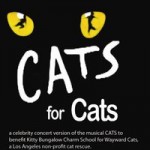 Annie Wersching and husband Stephen Full will be among the famous attendees and performers at CATS for Cats, a celebrity charity event being held at the Orpheum Theater in Los Angeles on August 6th. All proceeds benefit Kitty Bungalow Charm School for Wayward Cats, a local Los Angeles non profit cat rescue.
Other celebrities performing live at the event include James Cromwell, Peter Gallagher, Anna Gun of Breaking Bad, Keith David, Glee's Kevin McHale, and more.
Attendees who have purchased "After Party" tickets will be able to meet the celebrities, enjoy desserts and an open bar, and pick up some goodie bags. Sounds like a good time!
Latest News

0:30
Archives
About Annie Wersching
Annie Wersching is an actress best known for Renee Walker on 24. This is the most comprehensive Annie Wersching resource on the web with the largest collection of pictures, videos, interviews, latest news, and more.