The Surrogate
Release Date: March 2nd, 2013
Videos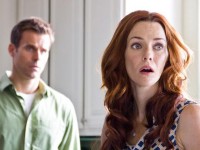 View Videos (4)
Annie Wersching starred in Lifetime original movie The Surrogate.
Synopsis
Successful author and college professor Jacob Kelly and his wife Allison want to have a baby. As a cancer survivor, however, Allison can no longer bear a child of her own. The couple turn to Carriers, a full-service surrogacy center for help, and are introduced to Remy who appears to be the perfect surrogate.
Meanwhile, Kate, a young administrative assistant who works at the college with Jacob, has a secret crush on him, and decides she will do anything to bear his child. The depth of her emotional disturbance is revealed when she stalks Remy to a nightclub and murders her, making her death look like an accidental fall from a parking lot rooftop.
Kate convinces the Kelly's to let her be their surrogate and begins her secret and twisted plan to have Jacob and his unborn child all to herself. Armed with Jacob's credit card number, which she steals, Kate creates an elaborate fantasy of flowers, lingerie and hotel rendezvous, hoping to break up his marriage. But soon Jacob and Allison are on to her, and the twisted charade is over.
Unfortunately, Kate is still carrying the Kelly's unborn child, and when she threatens to kill the baby, the Kelly's are faced with the horrible dilemma of going along with her dangerous fantasies… or giving up on their child. The decision they make soon plunges their lives into a nightmare of betrayal, revenge, and murder.
Latest The Surrogate News