Cold Case
Air Date: November 5th, 2006
Videos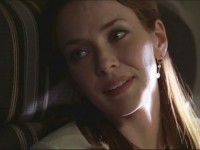 View Video
Annie Wersching guest-starred as "Libby Bradley" in Cold Case Season 4 Episode 7 "The Key" which aired on November 5, 2006. She played a fifth grade schoolteacher who was murdered in 1979. The episode was watched by 14 million viewers.
Episode Synopsis
The 1979 murder of schoolteacher Libby Bradley who was stabbed to death in a wooded area is reopened when the victim's bloodstained jacket is found stuffed in a tree trunk with a happy-face key chain in a pocket. The case was originally investigated by Jeffries when he was a rookie detective. The probe reveals the victim died two months after attending a key party she left with a neighbor, a man with whom she had an affair.
The list of suspects includes the victim's husband, ex-lover and daughter. Now, Jeffries will go back 27 years and retrace his steps, but as a more experienced detective.