Blue-Eyed Butcher
Release Date: March 3rd, 2012
·
DVD Date: November 6th, 2012
Videos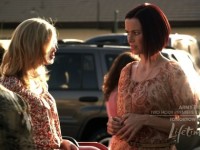 View Videos (2)
Annie Wersching starred in the Lifetime original television movie titled Blue-Eyed Butcher. The movie, based on a true story, was directed by Stephen Kay and filmed in December 2011.
Annie plays a character named Allie, a single mother and close friend of Susan Wright. The character is based on Jamie Dar-Hall, the real life friend of Susan.
Synopsis
Dubbed by the media as the "Blue-Eyed Butcher," Susan Wright appeared to have a fairy-tale life — an adoring husband, Jeff, two beautiful kids, and close family and friends. But six years into their marriage, the fairy tale crumbles when Jeff is found dead and buried in the backyard of their suburban home. The close-knit community is shocked as police accuse Susan of premeditated murder — luring her husband into the bedroom, tying him up and violently stabbing him almost 200 times before haphazardly cleaning up the crime scene.
As Jeff's family reels from the devastating news, Susan begins to mount her aggressive defense — that she needed to kill Jeff — out of self-preservation for herself and her children after years of physical and mental abuse. But prosecutor Kelly Siegler is skeptical of her defense and forcefully argues Susan is a cunning, doe-eyed sociopath, who has used her good looks to try to get away with anything in life — even murder.
Casting Call
[JAMIE DARR-HALL] Caucasian, 30ish, female, a single mom, friendly, warm, Jamie is Susan and Jeffrey's neighbor, who frequently talks with Susan and sometimes joins her and the other neighbors for get-togethers. Jamie (like all the neighbors) thinks Susan and Jeffrey have the perfect marriage, an image Susan keeps up despite her growing abuse at the hands of Jeffrey. Eventually, Jamie inadvertantly spots bruises on Susan's body and seems to realize that things aren't okay. However, after the murder (which makes the local headlines), Jamie is clearly freaked out by Susan's bizarre decision to have a yard sale when she's out on bail…LEAD (16)
Latest Blue-Eyed Butcher News